Episode Recap
Advanced materials and state-of-the-art production methods produce AP's industry leading emission control products. (0:04)
Universal and direct fit catalytic converters are produced at the AP Factory. (0:12)
Catalytic converters convert harmful exhaust pollutants into cleaner emissions. (0:17)
AP uses ceramic and metallic catalyst substrates coated with a solution of precious metals that react with the exhaust gases coming from the automobile engine. (0:28)
These technologically advanced catalysts meet OEM performance and reliability standards. (0:40)
Substrates are wrapped in a protective thermal mat for security and protection. (0:49).
Substrates are contained in a welded stainless-steel shell for enhanced durability and longer product life. (1:00)
Direct fit catalytic converters are assembled in welding booths. (1:07)
Robotic converter welding cells allow complex welding patterns, ensuring reliable, consistent and accurate results. (1:13)
Advanced materials and state-of-the-art production methods come together to produce industry leading designs for emission control products. Both universal and direct fit catalytic converters are produced at the AP Factory.
Catalytic converters are engineered to meet governmental standards for the purpose of converting harmful exhaust pollutants into cleaner emissions before they are released into the atmosphere. For this purpose, AP uses ceramic and metallic catalyst substrates coated with a solution of precious metals that reacts with the exhaust gases coming from the automobile engine. These technologically advanced catalysts are processed at our coating factory to OEM performance and reliability standards.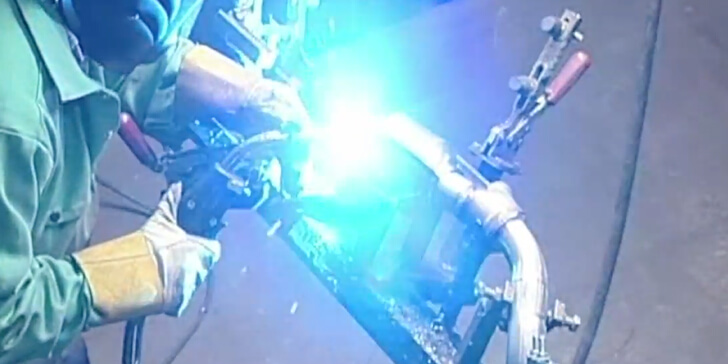 On the converter assembly lines, these substrates are wrapped in a protective thermal mat that secures and protects the substrate, which is contained in a welded stainless steel shell. Stainless steel materials are used throughout the converter production process for enhanced durability and longer product life.
Direct fit catalytic converters are assembled in welding booths. AP utilizes robotic converter welding cells for even more efficiency and throughput. Engineers program the robotic welders for complex welding patterns, assuring reliable, consistent, and accurate results.
For more information, visit our website at apemissions.com.