Designed to Fit. Built to Last
Dependability and uptime are the key factors in the long-term profitability of your commercial vehicle fleet and service operation. That's why DuraFit replacement DPFs and DOCs combine exact-fit design for easy installation with design enhancements over many OEM and aftermarket units that improve durability to extend service life. Diesel Particulate Filters (DPF) and Oxidation Catalysts (DOC) come with required gaskets to reduce installation time and cost. And we back our quality with nationwide warranty coverage.
Medium & Heavy Duty Commercial Vehicles
Diesel Particulate Filter (DPF) and Oxidation Catalysts (DOC)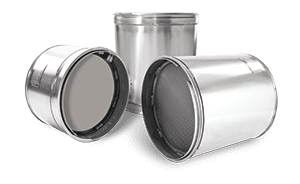 Diesel Particulate Filter (DPF) and Oxidation Catalysts (DOC)
Products Designed to Meet the Demands of Diesel Emissions
Easy installation to restore engine performance
Quicker service means less time off the road
FEATURES AND BENEFITS
Emission compliance for 2007 and newer models
Exact fit for easy installation
Replace damaged or contaminated particulate filters
Effective at removing soot particles from exhaust gases
Restore diesel engine performance
Styles for common applications
High-grade stainless-steel canisters resist corrosion
100% new, OEM-grade substrates minimize backpressure
Advanced catalysts improve regeneration efficiency and extend service intervals
CONSUMER BENEFITS
Improve operational performance
Included gaskets and clamps eliminate installation hassles and reduce cost
Ease of installation
Get back on the road quicker with filter replacement
Protected by a 3-year, unlimited mileage warranty
OUR LIMITS DO NOT STOP HERE!
At AP Emissions we are capable of fulfilling your needs, using solutions as: