Custom Catalyst Solutions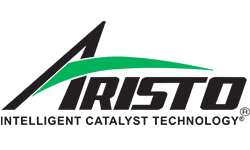 For three decades, Aristo has designed and developed cost effective catalysts to reduce emissions from mobile sources of air pollution. Aristo's proprietary methods of creating catalytic slurries is unique, precise and at the same time, a cost-effective means of managing use of precious metals. Through sourcing the best materials and developing cutting edge coating technologies we can provide our customers with emissions solutions that meet or exceed every challenging expectation.
Aristo's state-of-the-art "intelligent catalyst" formulation process can be applied to a range of substrates including ceramic and metallic monoliths; low (25cpsi) to high (900cpsi) cell densities; standard and thin wall substates; diesel flow through and diesel particulate filters. Sizes range from small volume lawn and garden equipment to industrial power plants.
From design and development to samples manufacturing, and full-scale production, Aristo is ISO 9001:2015 and ISO 14001:2015 certified.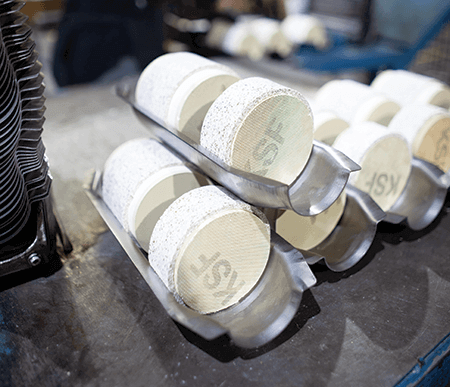 Since inception, Aristo has embraced leading-edge technology and now produces catalysts that fill the most advanced aftermarket TWC and diesel converters in the market.
Today, Aristo's newest technologies are targeted for OEM gasoline and diesel applications using the most advanced materials available in the marketplace. Coupling innovative design concepts with state-of-the-art process capabilities, Aristo produces catalyst solutions that meet the most stringent emissions requirements and customer specifications globally.
Our proprietary formulation technology allows the development of innovative washcoats, offering finer, more evenly distributed formulations which provides for more consistent coating characteristics.
Our proven, state-of-the-art coating technology minimizes part handling through the innovative use of automation and robotics, leading to the most consistent and predictable loadings.
The net result of our investment in these advanced technologies is the highest quality coatings and defect-free finished products available in the world today, with precious metal costs kept at an absolute minimum.
Aristo maintains three distinct state-of-the-art laboratory facilities, wet, dry and process, to ensure comprehensive product and manufacturing integrity. In conjunction with new product design, analytical methods are continually refined to ensure performance is maintained at the highest levels.
Aristo's flexible state-of-the-art formulation and manufacturing processes enables the coating of a wide variety of substrates:
Ceramic and metallic monoliths
High and low cell densities
Standard wall and thin wall
Diesel Particulate Filters (DPF's)
Small volume (lawn & garden equipment)
We listen carefully to customer requirements. Through use of in-house R&D; facilities and advanced testing methods, we develop products to meet all our customers' needs with minimal precious metal requirements.
In addition to existing products, Aristo can customize a catalyst specific for your unique applications.
OUR LIMITS DO NOT STOP HERE!
At AP Emissions we are capable of fulfilling your needs, using solutions as: